Planning a corporate meeting, milestone event, or incentive trip? An expedition cruise on a premium ship is the ultimate adventure travel experience. There's no better way to motivate performance and reward a job well done!
Expedition Cruises Are Booming!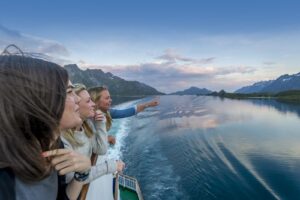 According to Cruise Industry News, a staggering 41 new expedition cruise ships will be delivered between now and 2023, doubling the 2018 capacity. Guest capacities range from 100 to 500, making these vessels perfectly sized for private ship charter.
Along with unique travel experiences, your attendees expect – and deserve – top-notch service and the finest amenities. And with so many upscale expedition cruise ships ready to launch, there's no need to sacrifice comfort for adventure!
Why Your Top-Tier Group Will Love an Expedition Cruise
Your participants crave authentic, immersive, and engaging travel experiences. Expedition ships deliver like no other venue. Here are some of the unique features of premium expedition cruises:
Purpose-built expedition ships have ice-strengthened hulls and advanced technology for superior stability, safety, and comfort.
Expedition Teams sail on each voyage to enhance the immersive experiences both onboard and ashore.
New upscale ships feature thoughtfully-appointed staterooms and suite, many with private verandas.
Itineraries and excursions are handcrafted to provide in-depth exploration in the most coveted and remote places on earth.
Zodiacs, mountain bikes, snorkeling equipment, and tools for exploration enhance the expedition experience
Complimentary wines and spirits, all excursions typically included
Smaller size vessels provide a relaxed, sociable environment.
Ships & Itineraries Designed for True Adventure
Expedition cruise ships offer unique voyages to close-to-home destinations in the USA and Canada, as well as to more remote bucket-list places. Itineraries include many 7-night voyages, and several expeditions as short as 4 or 5 nights.
With a plethora of new premium and luxury expedition ships traveling to every corner of the world, the possibilities are endless! Here are just a few that are ideally suited for top-tier incentives and corporate events.
Awesome Expedition Cruise Ships for Ultimate Incentives
Hurtigruten's MS Roald Amundsen
MS Roald Amundsen is the first of two new ships from Hurtigruten to sail with hybrid electric-power technology, setting a new standard for sustainable travel. The premium expedition ship accommodates 530 guests and sails to some of the most spectacular places on earth – including some in North America!
MS Roald Amundsen features large observation decks, all outside staterooms and suites (50% with private balcony), an infinity pool, three restaurants, a wellness area, and a Science Center.
Celebrity Cruises Celebrity Flora
Launched in May 2019, Celebrity Flora was designed with one destination in mind – The Galapagos Islands. This sleek ship boasts the largest and most luxurious accommodations in the Galapagos. All 50 staterooms are suites that include an array of indulgent services and amenities.
Other features of Celebrity Flora include innovative outward-facing venues with floor-to-ceiling glass windows, menus curated by a Michelin-starred chef, a large marina, and the first "Galapagos Glamping" sunset to sunrise experience.
Lindblad – National Geographic Venture
The new National Geographic Venture offers 4 to 7-night close-to-home expedition "escapes". The 50-stateroom vessel can sail into shallow coves of Alaska and the Pacific Northwest, and explore the tropical waterways of Central America.
Designed with decades of regional expedition experience, the purpose-built vessel also features open decks, generous windows, and specialty tools for active exploration. All voyages are accompanied by Lindblad National Geographic's world-renowned team of experts.
Ponant's Le Bougainville
Le Bougainville is the third Explorer Class expedition ship from French line Ponant, launched in April 2019. The luxury mega-yacht features 92 guest rooms, two restaurants, a 188-seat theater equipped with state-of-the-art sound and light technology, and lounge areas that open to the outside.
Other unique highlights include an Infinity Pool and Marina for swimming and watersports, and an innovative Blue Eye" multi-sensory underwater lounge. Le Bougainville offers 7-night voyages to the Mediterranean and Seychelles Islands.
Learn More & Let the Adventure Begin!
No matter what your group size, budget, or meeting requirements, Landry & Kling can help you find the perfect ship and itinerary for a flawless event! To get started (or just learn more), give us a call at +1 786-594-0732, send an email to inquiry@landrykling.com, or request a group or charter quote.