By Joyce Landry
The following is my first-hand account from the new Norwegian Joy in Shanghai – where I sailed with the Alibaba group during the first Norwegian Joy charter cruise in her new homeland.  As explained in a recent Seatrade Cruise News article, "Norwegian Joy's first Shanghai cruise hosts Alibaba Group", Norwegian Cruise Line has a special partnership with Alibaba to support their marketing efforts in Asia, and this charter was the first joint activity to kick off that relationship.  
L&K Joins the Alibaba Team for Norwegian Joy Charter
Landry & Kling was engaged by the U.S. division of Alibaba to support the logistics for their "western" invitees, made up mostly of top global customers, suppliers, and Alibaba executives and staff from their various embassies (offices) outside of China.  It was the first time that Alibaba used a cruise ship for a gathering of this type, and the first cruise for most of their 2,000 invitees during the Norwegian Joy charter. (Pictured right: Rolando Mendoza, Norwegian Cruise Line Manager of Charter Meetings & Incentives joins Joyce Landry & Gretta Roque onboard Norwegian Joy for Alibaba Charter)
Business Meetings Onboard Norwegian Joy
While the Chinese customers were enjoying the ship with their families, the group of 291 Western attendees were busy with meetings – which kept us hopping!  Along with two all-day sessions in the theater, the ship also accommodated Alibaba's Tmall Partner Exhibition in Taste Restaurant (left) for one-on-one interactions with suppliers.
Across the hall in Savor Restaurant (right), sellers and customers came together at the Product Sample Show. Here they saw new merchandise and participated in a very enthusiastic and well-attended product raffle.
The event was set up in the restaurant by removing most of the chairs and transforming 37 draped tables into a product showcase with merchandise from companies like Moleskin, Lavazza Coffee, Kodak, and more. It was a great example of how a ship venue can be transformed for an effective business purpose.  
Norwegian Joy: Purpose-Built for China, but Westerners Welcome
This was not my first cruise in China, but it was my first cruise on a purpose-built ship for this market.  In his opening remarks at Alibaba's first business session, Harry Sommer, Norwegian Cruise Line's Executive VP International Business Development, explained Norwegian's commitment to the China market by not just re-deploying an existing ship and "outfitting it with a noodle bar", but building it from the bottom up to appeal to the Chinese consumer.  
After spending several days on board, I could see and appreciate the nuances, and also marvel at the subtle ways that westerners were not left out.  I especially appreciate the English option at the bottom of the electronic reader boards (pictured left) and elevator signs.  The default language on board is Mandarin, but you can access English at the push of a button.
Some of my Observations About Norwegian Joy
New Venues  – To begin with, Asians, and Chinese in particular, are not sun worshippers. So gone is the big pool deck with lots of deck chairs, replaced with the clever Serenity Park (pictured below). The faux grass, trees and benches in this oceangoing "Park" are perfectly suited for tai chi, qigong and other group instruction popular with this market. The pool is there, but off to the side and much smaller than usual, used mostly by children.  
For western sun worshippers, there are deck chairs around the upper deck and there's always the Vibe Beach Club, which exists on other Norwegian ships (pictured, right).  This is also Norwegian's first ship with a covered bar area in Spice H2O.  It came in very handy on a rainy evening and made the area even more useful for events – rain or shine.
High Tech Activities: Chinese are not gym goers but there still is a well-equipped gym for others, albeit quite a bit smaller than on the comparably sized Norwegian Escape. Asians also like to be entertained, especially In a high tech environment, and there's no lack of activities in that regard.
Instead of a basketball court, that entire deck area is outfitted with an elaborate laser tag set-up, which is really a 3D stage set for gamers. Also missing is Norwegian's signature bowling alley – I guess their research proved that it wouldn't go over in this market, likely too low-teach for this crowd (!)  
By now, you've most likely heard about the F1 Grand Prix Race Track (the first at sea), and then there's the Galaxy Pavilion with bumper cars (left), Cloud Glider, 7D Dark Ride, simulators, and a clever "finger tip virtual coaster", where you design your own roller coaster with your finger on a screen, which is instantly converted to 3D.  You are then strapped into a seat and outfitted with virtual glasses to go for a ride on your own roller coaster. Now THAT was fun. My mind was awhirl imagining how these activities could be used for team building!
Then there's the food… For Chinese, Asian, and international tastes.  All of it really high quality, a signature of Norwegian ships. I love Asian food and gravitated to the specialty restaurants; however, I found that a couple of the restaurants were a little "too local" for my taste, especially because I don't eat meat and use little salt in my diet.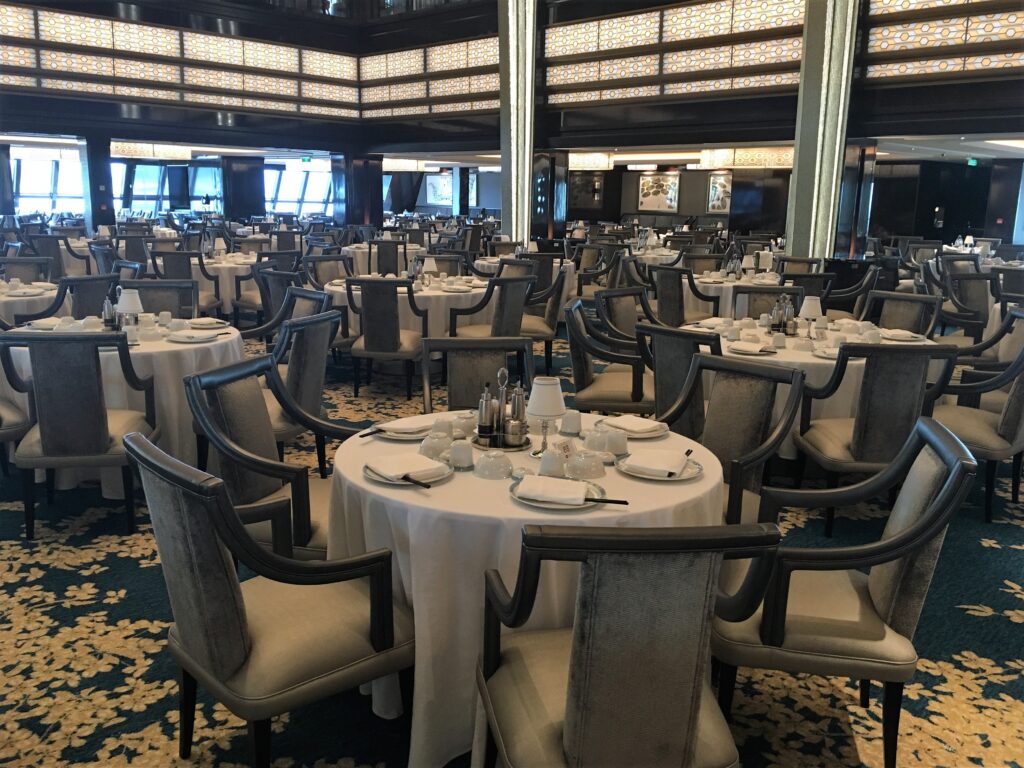 I soon found the ones where I felt most comfortable and enjoyed the food immensely. The Food Republic and Grand Tea Room were places we frequented.  I also discovered the noodle stations in the Garden Cafe and enjoyed noodle bowls even for breakfast. And everyone (Eastern & Western) loved the comfort food at the American Diner – complete with '57 Chevys, formica tables and great fries (pictured right).
Public Areas & Design: All of the public rooms were large and spacious. The first thing I noticed on the 3,883-passenger ship was a vast, open lobby, devoid of the usual clutter of seating or tables (pictured below).  And there are many other wide open public areas and walkways – clean with soft design touches & delicate artwork – almost zen-like. Certainly to appeal to the market, but it's also practical.
In Asia, people cluster; it's one of the first things a western traveler notices. Norwegian anticipated this in their design, and I noted that people flowed seamlessly throughout the ship because there was adequate space to do so. There is a large duty-free area, plentiful high-end shops, and an enormous casino with high stakes tables and a separate VIP room.
Gone also are the library/card room/breakout rooms off the atrium. This area is replaced with 8 private karaoke rooms (pictured, right). These rooms are very popular and require advanced booking, which was hard to get during the charter.
In lieu of a card room, there are large tables set up in the far corner of the atrium for Mah-Jongg (another consistently busy area). And it was impossible to pass by the atrium when there wasn't a well-attended dance class or participatory game in process at all times.
Norwegian Joy Service: Lastly, the crew was exceptional.  We heard that Norwegian trained and hired over 1,000 Chinese crew for the ship.  Yes, there were a few learning curves being the first departure, but in general, the crew was solicitous, very pleasant, and well-trained.  I marveled at their command of the English language, especially the customer-facing positions.  Another reason why a westerner would feel comfortable onboard.
Results of the Alibaba Cruise
In the end, the feedback from Alibaba was uniformly enthusiastic about the ship as a very effective venue to bring top customers and suppliers together.  They experienced what we talk about all the time – how the ship environment lends itself to interaction and greater camaraderie – much more so than in a typical hotel or resort where people scatter.  
Sailing on a ship is a shared experience, and we saw many small groups getting together over coffee or walking to lunch together, and having spontaneous and meaningful chats when they ran into each other onboard.  The Joy turned out to be a great venue for Alibaba to accomplish its goals, and it was obvious that a lot was attained over these 4 days.
Norwegian Joy for Corporate Groups
In summary, I can see mixing the right western group (especially a global corporate group) with the Chinese consumers onboard Norwegian Joy. The ship was very flexible and helped us by coming up with creative solutions to blend the groups together. They didn't seem to mind the disruption we caused by re-setting their dining room to turn it into trade show space! It was a win-win for everyone.
Xièxie to all of Norwegian Joy's staff and crew for doing such a superb job!
Want to learn more about group or charter cruises in Asia or anywhere else in the world?
Please give me a call at 305-661-1880, send an email to inquiry@landrykling.com, or request a group or charter quote.